NAV system
Clear information system in the field of air transport.
NAV has been providing professional flight planning services for 25 years.
Their portfolio includes, inter alia, software for economical and safe flight planning. Thanks to their systems, they managed to carry over 4 million passengers last year and fly over 96,000 flight hours.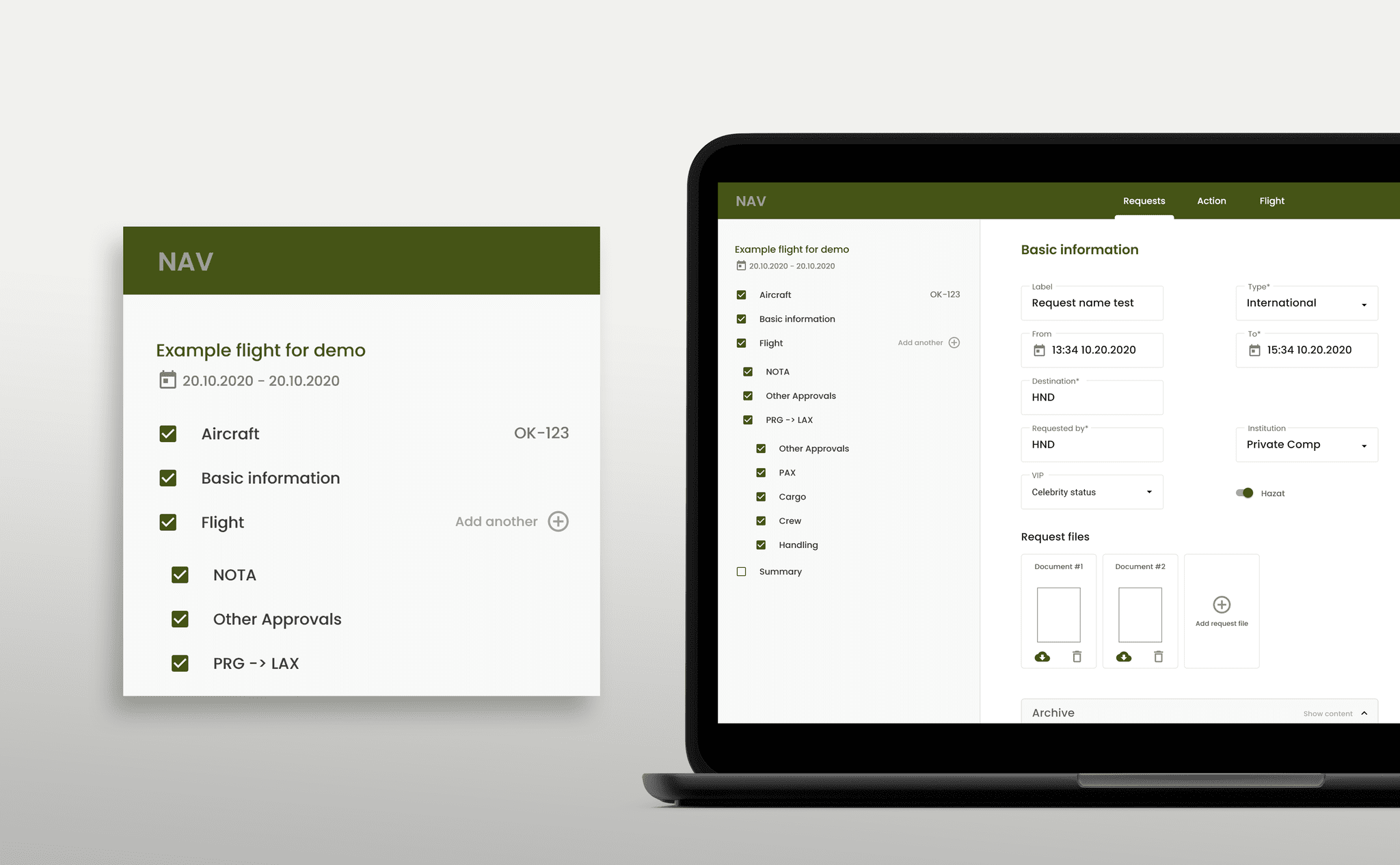 Air traffic operators need to keep track of large amounts of data. The main module of the NAV system provided a detailed overview of the planned flight, but there was no possibility to group several flights into one request. The transfer of information from paper documents to the system was inevitable given the benefits of their further use within the new module.
The clarity and simplicity of the solution was also a challenge. The resulting system had to be user-tuned and clearly display data from the existing NAV system to which the module is connected. We have consulted the clarity of the module with both, the company and the end users who will operate the system.
The application is based on React front-end and NodeJS back-end. The receiving team expected a precise solution that would provide high reliability.
We captured the technological solution of the current system as quickly as possible with an emphasis on the method of project management that NAV prefers. Since it is a critical process, the operation of which depends on dozens of flights per month, it was necessary to debug all the main use cases, as well as the possible edge cases.
The work performed was based on Time and Material method. We chose an agile method of management and we organized regular meetings every 2 weeks. Within the meetings we presented and went through the newly developed parts of the system in detail, to which NAV team gave us feedback, and together we agreed on the budget and deadlines. Part of our work was also the design of the UI, the involvement of a system analyst and our experienced developers.
The resulting application programmed consists of the possibility of the operator to create a flight plan, to connect to the NAV system and enter which additional authorizations need to be secured. The data generated by the system are synchronized back to the connected systems. Whenever during the planning, the operator has a report of the flight available, so he can adjust it according to the level of detail he prefers.
"Due to the lack of our development capacity, we reached out to Notum Technologies for the creation of a special module for our key customer. The development of the module turned out to our full satisfaction. The development cooperation went smoothly due to the fact that Notum brought quality communication, project management and coordination of all parties involved."
Company Owner, Engineering Director, NAV Flight Services
Do you like what you see? Let's meet
Send us a message and schedule a call or meeting with our team.