An easy way to find legal services
The online platform LegalList will save you time when searching for law firms and specific legal services.
Goal: Portal for searching for law firms and specific legal services.
Cost: 70 MD + we are still developing
See it in action: Project's web
In our everyday lives, everyone can think about a situation, when they might need the help of a lawyer.
Although these services are commonly sought, it is not always easy to find a lawyer or law firm according to your requirements.
It was not easy for us either, so when OK Legal and Mr. Michal Zwinger approached us, we wanted to make some changes. Our goal was to create a simple tool that would make the search process easier and save time. The platform offers to find legal services or contact a specific law firm directly, according to your requirements, easily, in a few steps.
Finding legal services alone can be stressful for many people. The only way to find an expert who meets our requirements for legal services, location, or financial limits was based on a search of an endless number of law firm websites. Sometimes we don't have a clue what we were looking for or who to contact.
Our effort is to change that and bring legal services closer to people who usually feel lost in the topic
So, this is how the LegalList web app becomes one of our projects.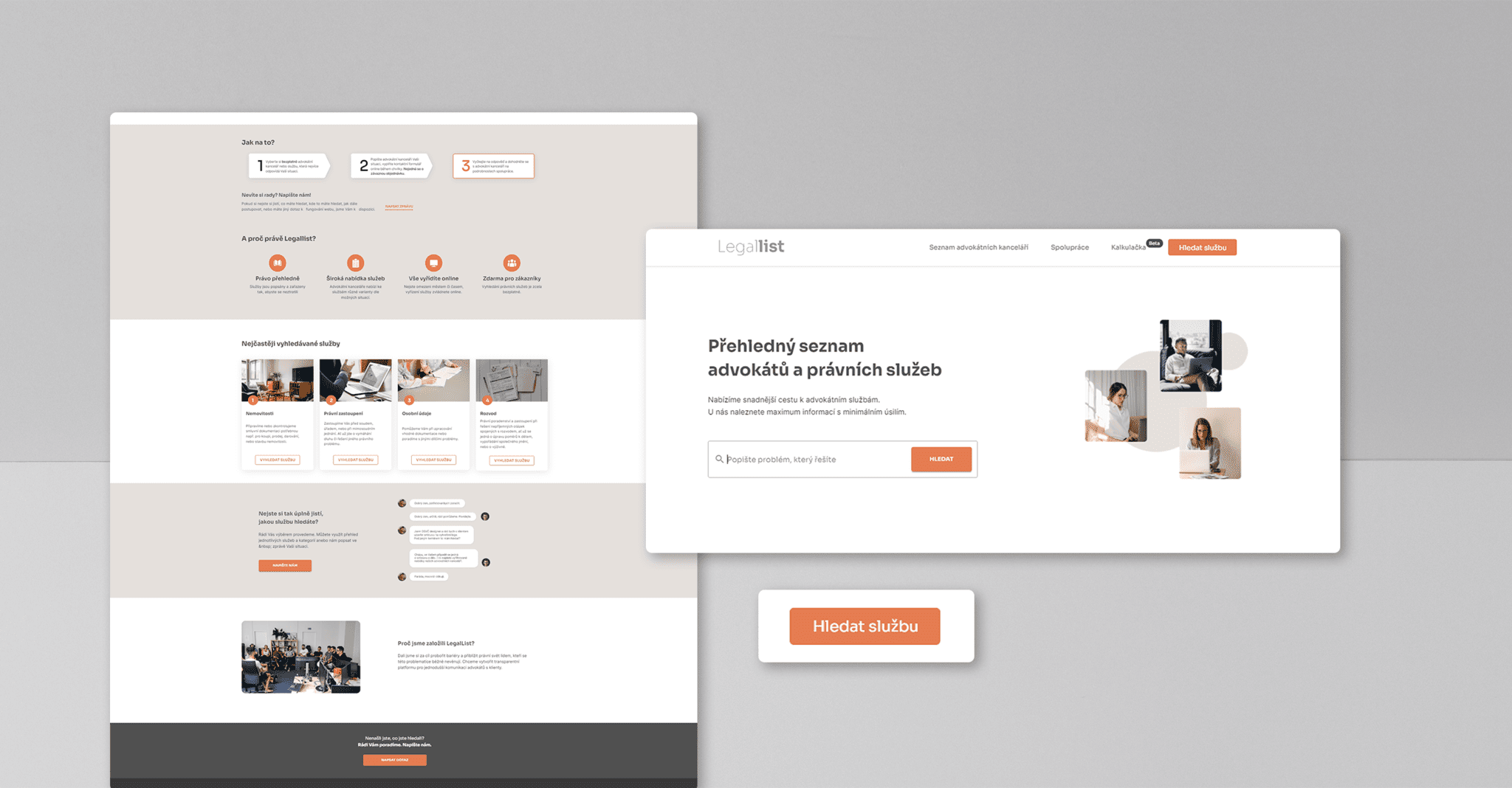 The LegalList, an online app, helps people to find a specific legal service according to their requirements and choose the right law firm for them. In the profile of the law firm, it is easy to find information that will make choosing a specific service a lot easier and thus save time. You will find out what your options are, including the service costs. Lawyers have different specializations and experiences, price conditions, and reaction time. Some services can also be handled online, so it is possible to choose the perfect lawyer from the other side of the country.
In order to make the application as intuitive as possible and easy to navigate, we tested it thoroughly among clients and attorneys. Our aim is to create a bridge between the world of law and its final customer.
The word Marketing is almost forbidden in the law sector given the field is limited in a quite specific way. That's why we try to break the ice, inform people and educate them in connection with law and its topics. The fact that we managed to collect 500+ followers and unpaid promotions on Instagram within two weeks also proves that we are doing a good job. Our Slovak investor could not resist our charm, so we extended LegalList to the Slovak domain.
This time the kick-off was a bit wild, but we were clear about the choice of technology. We used Nuxt.js for front-end development and the basis for BE provides STRAPI.
The biggest challenge for us was to create a handy search for legal services. We reached for the Algolia component for the search engine. When writing a word with a typo, the most appropriate services are still found.
Do you like what you see? Let's meet
Send us a message and schedule a call or meeting with our team.